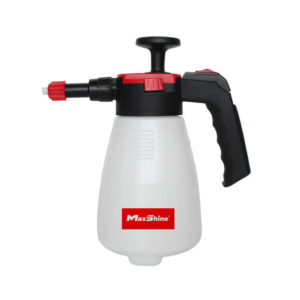 MaxShine Hand Pump Foam Sprayer For Sale
$27.69
Maxshine Hand-Held Pump Foam Sprayer can be used for car, home, and industrial care with no pressure washer or foam cannon needed! Its portable design offers a sleek look and makes storage in a tool bag easier than ever. Perfect hand pump sprayer for your needs. Easy to clean, easy to use!
ORDER SPRAYER NOW
Hand Pump Foam Sprayer Benefits
Usage Instructions:
Check each component on the sprayer to make sure it is securely fastened.
Fill empty canister with approximately 32oz of water then add the soap. (2-3oz)
Securely attach the pump and shake to mix the solution.
Pressurize sprayer with 30-40 pumps.
Let it foam!
Attention
To correctly use this product, please carefully read and follow the instructions on the packaging.
Do not misuse this product or spray towards any electrical components.