When it comes to the advantages of steam cleaning, let's move right to the top of the list: Steam cleaning is natural. At Wash Me Now, you can be certain that our steam cleaning services are not going to use dangerous chemicals, or other things that are simply not necessary in the cleaning of your vehicle. Steam cleaning is completely natural, safe for driver/passengers and vehicle, and absolutely effective. It can provide dramatic results at a price you can afford.
The advantages of steam cleaning are numerous. If you are looking for a powerful, comprehensive way to clean your vehicle, the first thing you want to do is learn more about the benefits of steam cleaning. As you can imagine, we are talking about a very long list.
Appreciating Steam Cleaning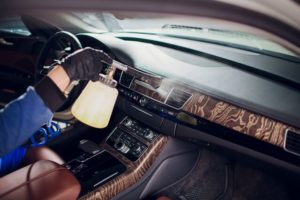 Cleaning your car isn't something you really want to deal with. Obviously, we want our cars to be clean on the inside and outside, but then we get to the issue of actually cleaning the vehicle. We are talking about what seems like a ton of effort. At the end of the day, you may also feel like it just isn't worth the trouble.
Steam cleaning is different from anything else you have encountered. This is a straightforward process that can clean your car from top to the bottom in the most profound way possible. Steam cleaning can leave your vehicle looking as though you just drove it off the lot. When you compare steam cleaning to some of the other options that are available to you, it will be easy to see why more and more people now see steam cleaning as the best solution for protecting their car or truck.
Steam cleaning is effective, safe, and affordable. Those are just a few of the advantages you will want to keep in mind. As you will find, there is so much more about steam cleaning that is worth appreciating.
Benefits of Steam Cleaning
There are a lot of benefits to steam cleaning that we haven't even covered yet. If you are eager to decide whether or not steam cleaning is right for you, here are a few things that you can appreciate in greater detail.
Let's start with the interior benefits:
Odours: Cigarette smoke, spilled food and drink, animals, and children are all things that can create some pretty gross smells in your car. Steam cleaning eliminates all of them.
Fabrics: Steam cleaning goes deep on the fabrics inside your car. It not only works quickly to improve your fabrics, but it freshens them up to an absolutely extraordinary degree.
Hard-to-reach places: One of the biggest advantages to steam cleaning is the fact that it works to get to places that other cleaning methods often miss. Through steam cleaning, you will be able to work miracles with the dashboards, vents, and everything else that is normally a pain to clean.
Fast drying: Best of all? The surfaces cleaned through steam cleaning will dry quickly. In fact, they are going to be dried, almost as soon as you have finished the work.
Here are some exterior benefits to keep in mind, as well:
Getting the dirt off: Steam cleaning can work quickly to improve the interior of your vehicle. You will love the way it performs similarly well on the exterior as well. Even if your car is caked in vast amounts of dirt and dust, steam cleaning is going to take care of things.
Toxic residues: As we mentioned before, steam cleaning is completely natural and safe. This also translates to an exterior that is not going to be covered in dangerous toxic residues.
Streaky windows: Don't you hate the streaks that are sometimes left after having your car cleaned? We do, too. That's why we really like the fact that steam cleaning doesn't leave those ugly streaks on your window.
Wax and tar: These are things that can really damage the exterior of your car on a number of different levels. Getting this stuff off can be challenging, but that is only true with other ways to clean your car. Steam cleaning gets all of this stuff off.
Cleans almost anything: Vinyl tops, whitewalls, and wheels are all difficult elements to clean, regardless of the specific vehicle that we are talking about.
Steam cleaning has a lot of advantages. We haven't even covered all of them in the list above. Steam cleaning is quick, and it will almost certainly get the job done. At Wash Me Now, we can show you everything you will need to benefit from everything steam cleaning has to offer. This is work that can work nicely with your own busy schedule. It certainly takes a lot less time than some of the other options available to you.