Have you ever thought that it would be nice to skip those visits to the car wash? To get your car washed while you clean your house or maybe watch a movie? How about if you went into work with a dirty car and left in a clean one? Wash Me Now has found a way to make all of that possible: mobile car detailing.
Affordable and Reliable Mobile Car Detailing Services
As long as you're in the GTA, we will come and to you and provide services—and we won't charge a ridiculous amount of money to do so. Wash Me Now provides affordable services across the GTA. We also know that every car owner has different needs, so we offer a wide range of packages allowing you to choose exactly what services you'll pay for. When you enlist Wash me Now some of the services you'll get are:
– Complete exterior hand-wash with WAX
– Interior vacuum and dusting
– Interior shampoo & steam cleaning
– Trunk vacuum & shampoo
– Cleaning and dressing all interior surfaces
– Leather cleaning and conditioning
– Engine shampoo & dressing
– Headlight restoration
Our trucks come fully equipped to clean your vehicle. No matter if it's a regular car, a van or even a bus, we provide to any vehicle them all. Every single one of Wash Me Now's trucks have their own mobile car wash unit, which has everything one might ever need to clean a vehicle—including its own electricity and water. We use only the highest quality equipment and cleaning products during a to make sure your vehicle drives away looking like new.
Our mobile car washes provide busy people all over the GTA with professional car cleaning services, both interior and exterior. Regularly getting your car detailed not only keeps it clean—which makes your daily commute much more pleasant—but helps prevent permanent damage on your car caused by things like road salt.
Mobile Car Detailing for All Makes and Models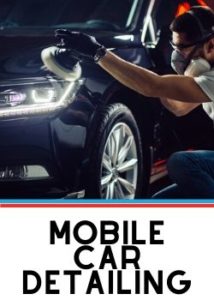 Oh, and by the way, we do much more than just small cars. Wash Me Now offers services every kind of vehicle, from two-door cars to full-length buses. We even wash delivery trucks for several companies. Whatever type of vehicle you might own, you can be sure it will look as squeaky clean as it did the day you bought it—maybe even better!
Call Wash Me Now to get your car cleaned today. You don't even have to leave the comfort of your home. So don't wait, call us today at (647) 607-5199 and book an appointment today.